Virtual Lawyer Program
What is Virtual Lawyer?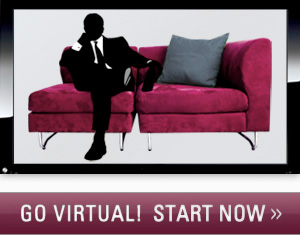 It's the legal solution you've probably been looking for!
Our lawyers recognized a need in the marketplace where YOU could get your legal questions answered, and answered fast!
First in its industry to offer such a revolutionary solution, Spotora & Associates introduces a simple means of meeting with an attorney, face-to-face, at an extremely affordable price!
Have you ever had just one legal question that lingers and worries you but, you just can't get it answered?
Have you ever "risked it" and just moved forward with a project knowing that your decision might come back to haunt you?
Have you ever asked, "why won't lawyers just answer my one, simple question!?"
Whether you know it or not, the Business & Professions Code, along with our State Bar Ethics Rules, prohibit lawyers from lending legal advice in the absence of an attorney-client relationship.
Spotora & Associates resolves this issue and now welcomes YOU to your Virtual Lawyer! Using the latest video technology, we have created a method for YOU, to speak with us, live from the comfort of… well, anywhere in the world you choose!

Fill out our quick meeting request form. Tell us what you would like to discuss, when you would like to meet and choose your preferred chat client. We will make sure that you are scheduled to speak with an attorney who has expertise in handling the type of questions you need answered. We respect your privacy and do not share your email or any other information with any third party.
Step Two: Make payment using your Visa or MasterCard through our secure payment gateway.
(only $89 for new clients)
After you have completed the quick meeting request form, you will receive a link to our meeting package payment page. Simply purchase a meeting package of either 20 minutes, 40 minutes or 1 hour. Your transaction will be processed thorough our secure payment gateway.
Step Three: Receive your e-invitation & go live with your Virtual Lawyer!
It's that easy!
EVEN BETTER – when you set-up your account, you will not only formalize a temporary attorney-client relationship but, should you choose to make our relationship more permanent at the end of your live session, your Virtual Lawyer payment will be applied to your first hour of work!
Ladies and gentlemen… It is time to think outside the (jury) box!